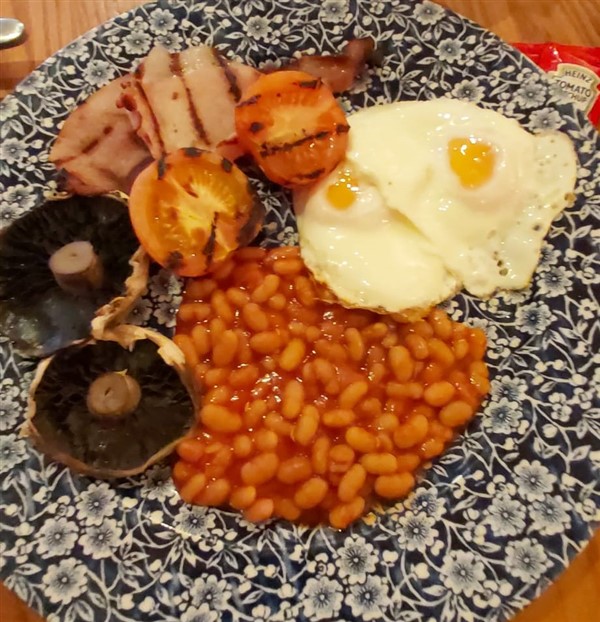 Introduction
Love them or hate them, Wetherspoons are a high street institution, known for its long opening hours and low prices for food and drinks.
One menu item that is often sought out is the breakfast option. So in this article, we are going to discuss the breakfast at Wetherspoons and give our thoughts on its value and quality.
About Wetherspoon
Wetherspoon is a well-known and popular chain of pubs in the United Kingdom. With over 900 locations across the country, Wetherspoon has become a household name for pub-goers and offers a distinct pub experience. The pubs are often located in historic or interesting buildings, adding character to each location.
Wetherspoon is known for its affordable prices, making it a budget-friendly option for drinks and food. The atmosphere is typically casual and relaxed, attracting a diverse range of customers, from locals to tourists.
The extensive menu features a variety of pub classics, including burgers, fish and chips, and hearty breakfast options, accompanied by an array of drinks, including a wide selection of beers, ales, wines, and spirits.
With its affordable prices, relaxed atmosphere, and convenient locations, Wetherspoon pubs are a popular choice for socializing, dining, and enjoying a laid-back pub experience in the UK.
Wetherspoon Breakfast Menu
The breakfast at Wetherspoons has become a favourite among many customers. Available at selected Wetherspoon pubs across the United Kingdom, it offers a hearty start to the day at an affordable price. The breakfast menu features a variety of options to cater to different preferences and appetites.
The Wetherspoons breakfast menu is available from 8 am to 12 noon, 7 days a week.
One of the highlights of the Wetherspoon breakfast is the classic Full English breakfast. It typically includes a fried egg, bacon, sausage, baked beans, two hash browns and a slice of toast and is priced at £5.48. Their large breakfast comes with two fried eggs, bacon, two sausages, baked beans, three hash browns, mushrooms and two slices of toast and is priced at £6.88. This combination provides a fulfilling and flavoursome meal that is perfect for those who enjoy a traditional English breakfast.
For those looking for a lighter option, Wetherspoon offers alternatives such as:
Vegetarian breakfast that includes a fried egg, Quorn sausage, baked beans, hash browns, mushroom and tomato, with a slice of toast.
Vegan breakfast that includes two Quorn vegan sausages, baked beans, two hash browns, mushroom, tomato and a slice of toast.
These breakfast options are thoughtfully crafted to accommodate specific dietary requirements and preferences.
In addition to the main breakfast dishes, Wetherspoon also provides a range of sides and extras, such as hash browns, black pudding, and baked beans. These can be added to customise your breakfast and make it even more enjoyable.
Wetherspoon Breakfast Muffin Deal
There is a selection of six breakfast muffins available, providing a range of options to satisfy your morning cravings. Choices include the classic egg and bacon muffin, the egg and sausage muffin, the breakfast muffin and the egg and cheese muffin.
The muffin deal includes tea, coffee or hot chocolate with Free refills and prices start from £3.49
Wetherspoons also offers a range of other breakfast fare, including Breakfast butties and wraps, porridge and American-style pancakes.
To complement your Wetherspoon breakfast, there is a selection of including tea, coffee and hot chocolate with free refills.
In Summary
The breakfast at Wetherspoons is known for its generous portions and reasonable prices. The quality can vary from location to location. One of the biggest criticisms of the Wetherspoon's breakfast is the pre-cooked poached eggs that are warmed up in a microwave.
Despite the criticism above, the breakfast at Wetherspoons does offer value for money, affordability, convenience and a range of different breakfast offerings.
It is served in a relaxed and casual atmosphere, making it an ideal choice for a leisurely breakfast with friends or family, or as a satisfying start to the day before embarking on your activities, this is why it has become a go-to breakfast destination for many in the UK.